Module 2020
Modular I/O system with Modbus® RTU or Ethernet – Modbus® TCP/IP
Application
Module 2020 from EAP is an I/O system consisting of a basic module with LCD display, 4 buttons and a micro-SD card slot, which can hold up to 15 expansion
modules (maximum of 248 I/Os can be controlled). The outputs can be controlled in a menu-guided way on the base module by means of push-buttons via the
LCD display or manually on the expansion module by means of the toggle switch (and potentiometer). This I/O system is the logical continuation of the
development of the central and decentralised Fieldbus units. Like the Fieldbus units, this system is used to set up distributed systems (Fieldbus systems) in
industry, building services and HVAC. The units can be arranged in a centralised and decentralised way and can be read and written by our R01.8DI / R02 control
and regulation units and other central CPUs (DDC, PLC, PC) or with our Tauris / Leonis room control units via the RS485 Modbus®-RTU or Ethernet Modbus®-
TCP/IP interface.
Technical Data
| | |
| --- | --- |
| Power supply voltage: | 24V DC +10%, -5% |
| No-load current: | B01 40 mA, B02 110 mA, B03 120 mA |
| max. current draw: | see table |
| Bus protocol: | RS485 Modbus®-RTU, Ethernet Modbus®- TCP/IP with galvanic isolation |
| Transmission rate B01: | 4,800...230,400 Baud |
| Transmission rate B02: | 10/100 MBit integrated switch |
| Transmission rate B03: | 10/100 MBit integrated switch |
| Base module: | B01 with Modbus®-RTU, LCD display, 4 keys, micro SD card slot and 8DI 24V (pnp or npn) B02 with Modbus® TCP/IP 2-port switch, LCD display, 4 keys, 1 x Modbus®-RTU gateway for connecting Modbus® RTU sensors, Micro SD card slot and 8DI 24V (pnp or npn) B03 with Modbus® TCP/IP 2-port switch, LCD display, 4 keys, 5 x Modbus®-RTU gateway for connecting Modbus® RTU sensors |
| Base module housing: | 45 mm in-line syst. WxHxD 70 x 90 x 58 mm |
| Display:: | Plain text LCD display |
| Hand control level: | Plain text LCD display + 4 keys, menu-guided operation / control of the outputs, Display of actual states or actual values |
| Expansion modules: | |
| Digital input: | 24V DC, 5mA (pnp or npn) incl. counting function up to 100Hz and toggle register |
| Analogue input: | PT100/1000: MB: -100...+500 °C, NI1000, NI1000 TK5000, KTY81-110, KTY81-210, Resolution 0.1 °C and resistance up to 6553.5 Ohm NTC1.8kOhm, NTC5kOhm, NTC10 kOhm NTC20kOhm, resistance up to 6.5 MOhm, 0-10V resolution 1mV, 4-20m resolution 1μA |
| Digital output: | |
| Open Collector npn: | 1-36V DC npn / 1A, short-circuit proof E8OC - max. frequency 1kHz - 0.1% resolution, E16OC- max. frequency 250Hz - 1% ,resolution |
| Open Collector pnp: | 6-36V DC pnp (incl. tolerances) / 1.1A /8 channels on, short-time 2.5A, short-circuit proof, thermally protected 2.2A / if only 1 channel/connector is active, parallel connection allowed, current accumulates accordingly |
| Digital output TR (Triac): | 0-230V AC 50/60 Hz / 0.7 A / 8 Channels on, inrush current 50A/20ms, 4A/ 5 sec pulse package control with zero passage circuit, not short-circuit and overload-proof |
| Digital output: | |
| Normally open relay: | 230V AC / 5A resistive load, 0.5 A cos phi 0.4 230V AC / 16A resistive load, 0.7 A cos phi 0.4 |
| Changeover contact relay: | 230V AC/ 5A resistive load, 230V AC / 0.5 A cos phi 0.4, HL 55V DC/ 10 A AC1 resistive load |
| Output analogue: | 0...10V (unit 1mV)), 4...20mA (unit 1μA) |
| Expansion module housing: | 45 mm in-line syst. WxHxD: 52.5 x 90 x 58 mm |
| Status display: | DI/DO Dual LED red/green, Mode Led green |
| Hand control level: | Control of the outputs via toggle switch and potentiometer |
| Terminals depending on module: | Plug-in terminals with push-in connection up to 1.5 mm² or 2.5 mm² |
| Installation: | TS35 profile rail |
| Ambient temperature: | 0...+50°C |
| Accuracy at 20-30 °C: | typically T 0.1 °C, U 0.1%, I 0.2%, Resolution 0.1 °C, 1mV, 1μA |
| EMC: | according to EN 61326 |
| Protection type: | IP20 |
| Standards: | CE conformity |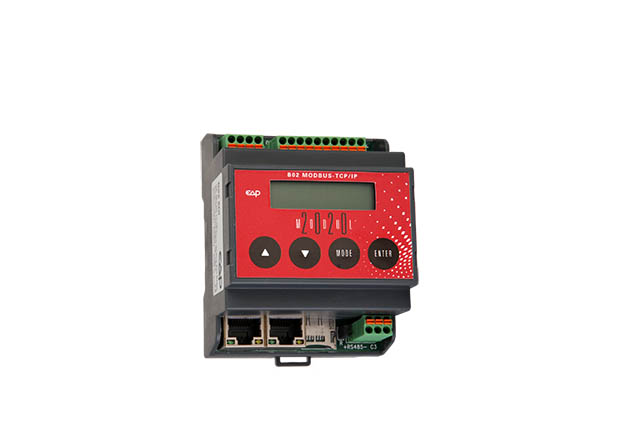 B… Base module
Base module B01.8DI Modbus RTU
Micro SD card slot – enables loading
of the latest firmware